Top 10 Tricks for Getting Better Sleep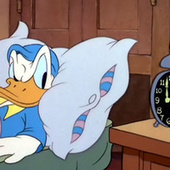 After holidays, I often work in late night, check voice mail messages, answer emails, and etc. I need a decent sleep to work the second day. The list furnishes a starting point for me to get a better sleep. Yet, I found that each suggestion alone does not help, since it only deals with isolated or simplified situation. For example,
I just could not count. I need to sort through my (voice + electronic) mails before it becomes a mountain I could not climb.
A better way for me is to mix them effectively. My first step is to change my nightly routine
For something we spend half our life doing, a lot of us are pretty awful at sleeping. Here are our top 10 tips for falling asleep faster, getting quality rest, and waking up easier in the morning.
Via lifehacker.com