Stevie at The Truck Stop – a Touching Story
Stevie has Downs Syndrome with a heart problem. He worked hard as a bus boy at a truck stop, his smile touched everybody and became an unofficial mascot for the stop.
When he went through heart surgery before the Thanksgiving, truckers began to fold cash into napkins for missing the charming grin of Stevie. When Stevie came back for work, he was lead to a table
… covered with coffee cups, saucers and dinner plates, all sitting slightly crooked on dozens of folded paper napkins.

Stevie stared at the money, then at all the napkins peaking from beneath the tableware, each with his name printed or scrawled on it. I turned to his mother. 'There's more than $10,000 in cash and checks on that table, all from truckers and trucking companies that heard about your problems. 'Happy Thanksgiving.'
Via Scoop.it – Be Productive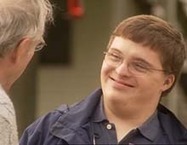 From time to time when you read about the challenges and issues of the day…a story rises up from nowhere that touches the heart. So…here's the question. What choice can you make today out o…
Via chuckgallagher.wordpress.com
Error: Twitter did not respond. Please wait a few minutes and refresh this page.